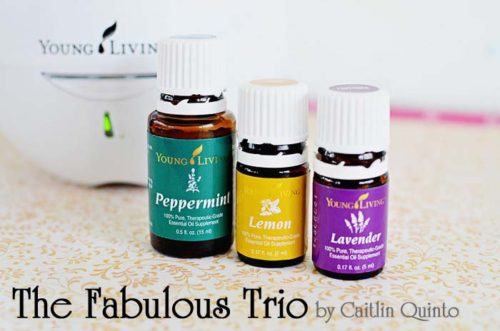 For the first time in 23 years, I woke up one with a throbbing head, pressure under my eyes, a runny but dry nose, and I was miserable! I started talking to people that I knew dealt with allergies, and confirmed that I indeed had hay fever. I asked questions like "When does it stop?", and the answers I got shocked me. People would answer with, "It stops at the end of the season" or "It doesn't ever stop, I take an allergy pill everyday". I was appalled at these responses. I personally refuse to take a pill everyday just to mask symptoms, without ever getting rid of the cause to the misery. Thankfully, by this point in my life I had been researching essential oils extensively, and had come across a specific essential oil relief blend of Lemon, Lavender, and Peppermint.
I ordered the EO trio from Young Living, plus their V6 carrier oil, a box of brown, glass roll-on bottles, and vegetable-based capsules. Once I had everything in front of me, I made a Roll-on with 30 drops each of the trio oils and topped it with the V6. After applying the oils to my chest and sinus points I experienced general relief throughout the day. Do you want to know what really kicked my allergies to the curb? The capsules. These included 3 drops of the trio oils topped with the V6 oil. I took 1 capsule twice a day for 2 weeks, and my hay fever disappeared. I was simply amazed by the results, and I have not had hay fever misery since! That was 2 years ago!
Now, here's where it gets even better! I have continued to research, and I've learned more about these 3 oils. Knowing that the citrus oils are considered "Happy Oils" it didn't even cross my mind that Lemon would help me with my Clinical Depression, that Lavender would relax my anxiety, or that Peppermint would act as a stimulator for my brain and reduce my cravings for coffee.
I love to share the healing power of essential oils with others. There are so many different oils with many different properties for healing physically, mentally, or emotionally, and I can't wait to tell you about them! Look for my next blog on blending essential oils, or stop by our office to learn more!
Yours in Health,
SFC
The information provided by the Stillpoint Family Chiropractic Wellness Blog is not intended or implied to be a substitute for professional medical advice, diagnosis, or treatment. All content, including text, graphics, images, and information, contained on or available through this website is for general information purposes only. Stillpoint Family Chiropractic assumes no responsibility for its accuracy, and encourages its readers to confirm all details from alternate sources, and any and all content is subject to change without notice.