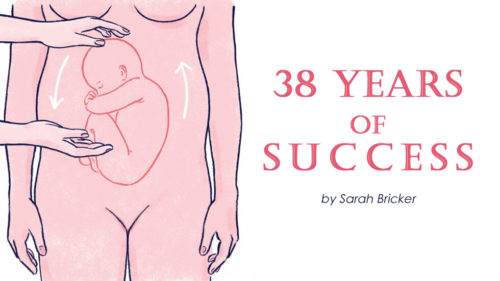 If you've never given birth to a child, you may not know that babies are meant to be birthed head-first (upside-down). A baby is classified as breech when they are right-side up inside the womb. Today, nearly 13% of all cesarean deliveries performed are due to breech presentation. External constraints, such as stress on a pregnant woman's pelvis, strain of the uterus, and strain of surrounding muscles and ligaments, can keep a baby from moving freely or cause them to get "stuck".
The Webster Technique is an abdominal specific, light-force, chiropractic technique developed in 1978 by the late Dr. Larry Webster, Founder of the International Chiropractic Pediatric Association. It is designed to reduce stress, and therefore encourage the baby to turn itself within the womb in order to avoid a cesarean section birth.  The risks with major surgery like a c-section include infection, hemorrhaging, scar tissue, extended hospital stay/recovery time, injury to organs such as the bowel or bladder, fetal injury, respiratory complications after birth, and 50% lower APGAR scores.
With an 82% success rate, according to the Journal of Manipulative and Physiological Therapeutics, and virtually no risk to the mother or child, the Webster Technique is a great option to consider if your chiropractor is pediatric certified through the ICPA, like Dr. Pennella! Do you know someone who's baby is breech? Sharing what you now know may change their life.
To learn more, go to:
http://icpa4kids.org/Wellness-Articles/the-webster-technique-a-technique-for-pregnant-women.html
Yours in Health,
SFC
The information provided by the Stillpoint Family Chiropractic Wellness Blog is not intended or implied to be a substitute for professional medical advice, diagnosis, or treatment. All content, including text, graphics, images, and information, contained on or available through this website is for general information purposes only. Stillpoint Family Chiropractic assumes no responsibility for its accuracy, and encourages its readers to confirm all details from alternate sources, and the content is subject to change without notice.